NPI Award 2018.
28 February 2018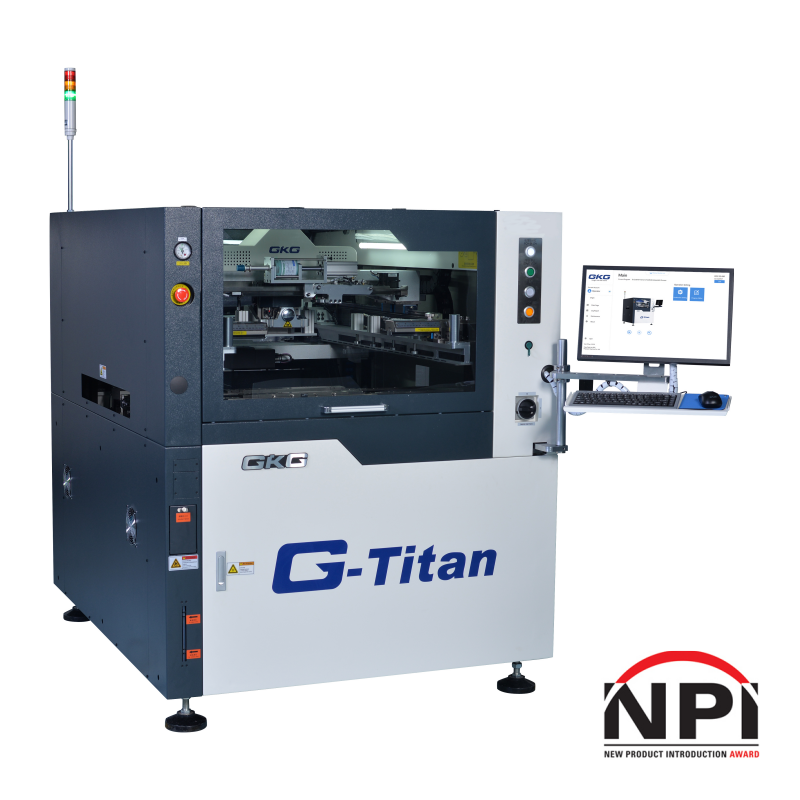 MORRISVILLE, NC –  Juki Automation Systems (JAS), Inc., a world-leading provider of automated assembly products and systems and part of Juki Automation Systems Corporation, announces that it has been awarded a 2018 NPI Award in the category of Screen / Stencil Printing for its new G-Titan Screen Printer. The award was presented to the company during a Tuesday, Feb. 27, 2018 ceremony that took place at the San Diego Convention Center during the IPC APEX EXPO.
The new G-Titan Screen Printer is equipped for I4.0, lights-out manufacturing and quality print control. The printer features a new interface with a modern look and many standard features, including: touchscreen LCD, stencil inspection, solder paste rolling measurement, stencil flattener, support block crash prevention, and automatic solder paste dispense (500g jar).
The G-Titan features SPI closed-loop communication. The smart SPI closed-loop function provides SPI detection information to the printer to auto adjust and offset printing conditions. This is currently compatible with major SPI manufacturers.
The automated solder paste dispensing reduces production costs by reducing production personnel, dispensing the paste directly from the jar, It extends the solder paste viscosity and maximizes the solder paste lifespan. Additionally, exposure to air is reduced, minimizing issues from improper storage. This also reduces human errors and the chance of mixing old and new solder pastes together.
Bill Astle, JAS Inc. President explained; "Both Juki and GKG are ecstatic and honored to receive the NPI Award. The G-Titan is our latest generation SMT Stencil Printer and introduces a new concept in Optimum Paste Control (OPC) using advanced built in features such as automatic paste replenishment, which eliminates insufficient and/or excessive paste on the stencil. This feature also reduces labor and human intervention, keeping the solder paste roll within the optimum range automatically."
Premiering in 2008, the NPI Awards program is an annual celebration of product excellence in electronics surface mount assembly. Premier products based on the finest examples of creative advancement in technology are chosen by a distinguished panel of industry experts.
Source: http://www.us-tech.com/RelId/1931671/ISvars/default/New_Juki_Printer_Recognized_with_NPI_Award_during_APEX.htm