Insight into the Future.
29 August 2017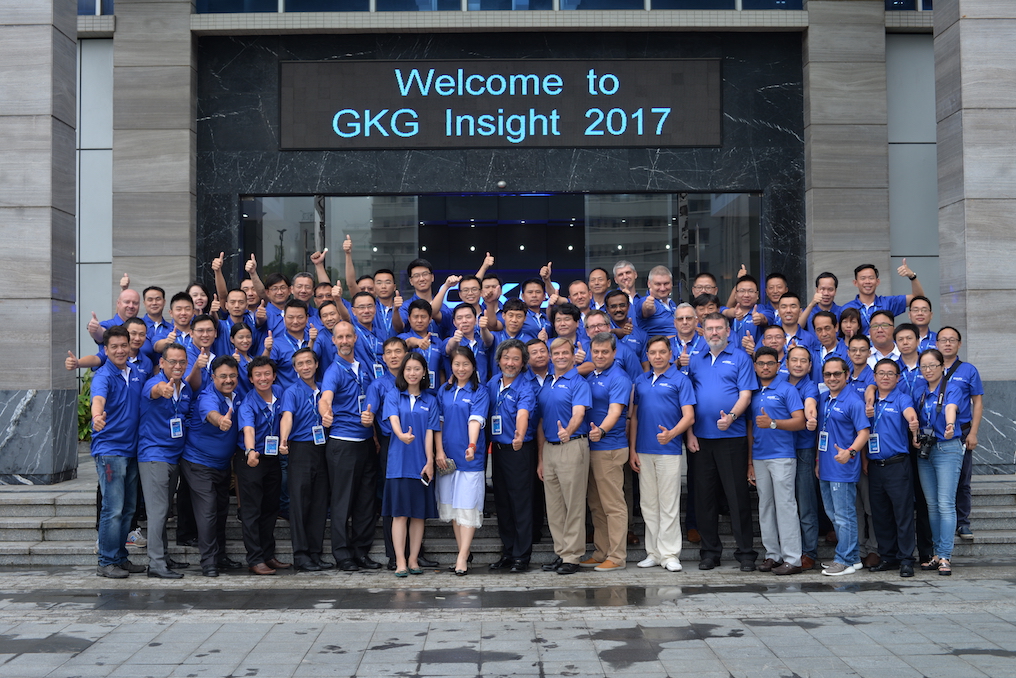 On 28th of August, GKG Precision Machine Co., Ltd, conducted its first ever in-house event, GKG Insight 2017. 50 distributors from more than 30 countries, gathered to witness GKG's growth towards being a prominent brand with international standards.
Due to Typhoon Hato, numerous flights arriving Shenzhen International Airport were delayed or even suspended. However, all 50 distributors arrived at the designated time and the conference commenced at 9am sharp.
Juki Automation Systems Corporation embrace the presence of GKG and embarked on the global promotion of the brand. This year, a world-renowned EMS factory had purchased more than 300 sets of GKG SMT Printers. An increasing amount of international eminent electronics manufacturing companies choose to work with GKG, further affirming that GKG product quality have attained international standards. With reference to GKG's market data, more than 8,500 machines had been sold to date, since GKG's establishment. With this, GKG successfully secured the number 1 spot domestically, with the overseas market showing a consistent increase.
Bagged with many years of overseas marketing experience, GKG Asia Pte Ltd's Managing Director, Mr. K.S Toon, noticed that there are a great number of global consumers who are beginning to be captivated by GKG. He said: "We have shifted to this new industrial park three years ago and after years of operation, we feel that we are well-equipped with the capabilities to showcase to the world what we have got. Hence, we've decided to seize the golden opportunity to hold this event."
Mr. Glenn Qiu, Chairman of GKG Precision Machine Co., Ltd, articulated: "All the while, GKG focuses greatly on R&D with constant innovation, fulfilling the requirement of our global customers. We strive towards mutual improvement and development."
During the conference, GKG officially launched six of its newly developed products, including five SMT Screen Printers and one Multi-function high speed dispenser. After an afternoon of observation and evaluation, distributors expressed great interest about the products and further discussed about the future roadmap of GKG. At 4.30 in the afternoon, GKG sang the event song, "Together We Are", with the international distributors. The song is also a self-composed song by GKG Asia Pte Ltd's Managing Director, Mr. K.S Toon.
Mr. Sebastian Greck, Team Leader of Product Management from Juki Automation Systems GmbH said: "We have been working with GKG since 2012. GKG products exhibit high stability with minimal hiccups. It helps greatly in attaining efficiency in the entire line of production. Today, after witnessing the R&D and manufacturing capabilities of GKG, we believe it will further enhance our mutual blueprint." When asked about area for improvement, Mr. Greck hopes that GKG can develop a machine user interface software that is more appealing to the western market with multiple languages such as German and Spanish.
Mr. Grant Langley, General Manager of Techmet (South Africa), commented: "Our company have been distributing other products but GKG's products displayed the highest consistency and stability. We hope that GKG maintain the spirit with continuous improvement."
Mr. Mike Nelson, President of Etek Europe, remarked: "GKG is the Number 1 SMT Printer Manufacturer. In addition, it's integrated model consisting of R&D, production, sales and service, greatly complement the marketing efforts in Europe. The topics that GKG elaborated today highly matches my requirement."
According to the feedback, this is the first time in the industry, that an event of such a large scale was held. With creative and careful planning by the organizing committee over the past 5 months, GKG Insight 2017 were reckoned as a unique "Open house" event specially tailored to their global distributors to lay a strong foundation towards the future.